A machine for every sector
A coffee for every cup
Location
Belair Coffee Systems Ltd.
Unit 94, Alston Drive
Bradwell Abbey
Milton Keynes
Buckinghamshire
MK13 9HF
Payment Methods
Secure checkout via PayPal:

Contact Us
0800 980 4770
Office Opening Hours
Monday - Friday
8:30 - 17:00

What's New at Belair Coffee?
Delivery
Daily Deliveries To: Aylesbury, Banbury, Bedford, Berkhamstead, Bicester, Biggleswade, Brackley, Buckingham, Cambridge, Corby, Coventry, Daventry, Dunstable, Great Missenden, Hemel Hempstead, Hertford, Hitchin, Kenilworth, Kettering, Leighton Buzzard, Letchworth, Luton, Milton Keynes, Northampton, Olney, Royal Leamington Spa, Royston, Saffron Waldon, Southam, St Albans, St Neots, Southam, Stevenage, Wellingborough, Welwyn Garden City, Winslow. Next Working Day Delivery via DPD To: Berkshire, Cambridgeshire, Cheshire, Cornwall, Derbyshire, Devon, Dorset, Durham, Essex, Gloucestershire, Hampshire, Herefordshire, Huntingdon, Kent, Lancashire, Leicestershire, Lincolnshire, Middlesex, Norfolk, Nottinghamshire, Northumberland, Oxfordshire, Rutland, Shropshire, Somerset, Staffordshire, Suffolk, Surrey, Sussex, Warwickshire, Wiltshire, Worcestershire, Yorkshire.

New FLAVIA Sachets
Choose from 5 Lavazza Coffee Sachets
or 4 new single pack indulgence drinks!
Free Loan Water Coolers
All you pay for is a 6 monthly Water Filter change and a quarterly sanitise
The L'OR Promesso
Offering you the quality you want while giving you the consistency you need!
Coffee Syrups
Make classic coffees like Vanilla Latte or create your own flavour combinations!
Contactless Water Cooler & Tap
With Infrared Sensors for a contactless, hygienic dispense at a 5cm distance
In addition to our Coffee products…
(Beans, Capsules, Pods, Filter Coffee, FLAVIA Sachets and Instant Coffee)
We also have a wide selection of products to compliment your drinks menu, such as…
Coffee Syrups, Hot Chocolate, Tea, Biscuits & Mints, Cups & Lids, Milk, Sugar & Stirrers, Machine Supplies & Cleaning Products and Water Filtration.
FREE TASSIMO Machine
Buy any 5 cases of TASSIMO products and get a free TASSIMO machine!

Coffee with a personal touch
The Douwe Egberts Excellence Touch & Excellence Compact Touch
L'OR Espresso Capsules
Compatible with Nespresso® Coffee Machines

Bravilor Esprecious with FreshMilk
New FreshMilk Fridge Unit for the Esprecious Bean to Cup Coffee Machine
TASSIMO
View our range of TASSIMO Pods &
T Discs for your TASSIMO Machine
Vitro S1 Bean to Cup Coffee Machine
A compact and automatic hot beverage Bean to Cup Coffee Machine
White Ox Coffee Beans
A distinctively bold, expertly blended and dark roasted 100% Arabica coffee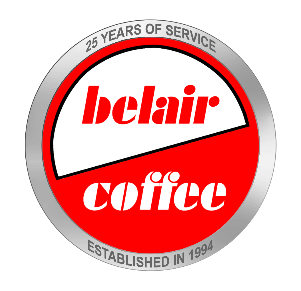 Belair Coffee turned 25 in 2019!
Click here to read a message from the boss on our Silver Anniversary
The L'OR Promesso
Offering you the quality you want while giving you the consistency you need!
Hot Chocolate
We stock both bulk bags and individual sachets of our delicious Hot Chocolate!

Give us a follow on Social Media and stay connected!
CORONAVIRUS
We're open and committed to serving our customers - view our latest update here
NEW Contactless Coffee Machines
No need to touch - simply hover over the icon to make your drink selection!
Restart Procedure for reopening
Take a look at our recommended restart procedure for your Coffee Machine
New Flavia Creation 600
Experience coffee shop quality in the workplace!