A MACHINE FOR EVERY SECTOR
A COFFEE FOR EVERY CUP
OFFICE OPENING TIMES
Monday - Friday
08:30 - 17:00
STAY CONNECTED
LOCATION
Belair Coffee Systems Ltd.
Unit 94, Alston Drive
Bradwell Abbey
Milton Keynes
Buckinghamshire
MK13 9HF
T: 0800 980 4770
DELIVERY
DAILY DELIVERIES TO Aylesbury, Banbury, Bedford, Berkhamstead, Bicester, Biggleswade, Brackley, Buckingham, Cambridge, Corby, Coventry, Daventry, Dunstable, Great Missenden, Hemel Hempstead, Hertford, Hitchin, Kenilworth, Kettering, Leighton Buzzard, Letchworth, Luton, Milton Keynes, Northampton, Olney, Royal Leamington Spa, Royston, Saffron Waldon, Southam, St Albans, St Neots, Southam, Stevenage, Wellingborough, Welwyn Garden City, Winslow. DAILY CARRIER DELIVERIES TO Berkshire, Cambridgeshire, Cheshire, Cornwall, Derbyshire, Devon, Dorset, Durham, Essex, Gloucestershire, Hampshire, Herefordshire, Huntingdon, Kent, Lancashire, Leicestershire, Lincolnshire, Middlesex, Norfolk, Nottinghamshire, Northumberland, Oxfordshire, Rutland,
Shropshire, Somerset, Staffordshire, Suffolk, Surrey, Sussex, Warwickshire, Wiltshire, Worcestershire, Yorkshire.
Online Orders - Minimum Order £40 - Orders from the UK only - Free Delivery
Douwe Egberts coffee experts select 100% UTZ Certified Arabica beans from the best plantations all over the world based on their characteristics and appearance to ensure that these beans meet the highest quality standards. A long slow roasting process ensures that this blend gives a superb Italian style espresso taste.
1 Case (6 x 1kg bags)
EAN code = 08711000277409
£60.67 (£10.11 per kilo)
LEARN MORE >
The Douwe Egberts White Ox is a distinctively bold and dark roasted 100% Arabica coffee. The expertly blended, UTZ Certified Coffee Beans have notes of dark chocolate and crisp red berries - a perfect base for a wide variety of speciality coffee drinks from an authentic, intense espresso to a smooth, aromatic cappuccino or iced latte.
1 Case (12 x 500g bags)
EAN code = 08711000345283
Click below for more info!
ADD TO BASKET
Douwe Egberts
Decaffeinated Coffee Beans
This is a blend of 30% Arabica and 70% Robusta beans, the Arabica coming from Brazil, Ethiopia and Honduras, and the Robusta from Indonesia. This medium roast bean is deep, rich, chocolatey and punchy with a powerful finish. Earthy notes throughout with an underlying spicy chocolate feel and an excellent body that cuts through milky drinks well.
This decaffeinated blend of Arabica and high quality Robusta beans, combined with a long roasted process, gives this coffee a powerful yet rounded taste with a dark roast character. Perfect for drinking at any time of the day and won't keep you up all night! A good all round coffee.
1 Case (6 x 500g bags)
EAN code = 0871100027583
£46.88 (£15.63 per kilo)
Belair Coffee
Artisan 2
Coffee Beans
Douwe Egberts
Decaffeinated (UTZ Certified)
Coffee Beans


1 Case (6 x 1kg bags)
£62.76 (£10.46 per kilo)
Belair Coffee
(Own Blend)
Coffee Beans
ADD TO BASKET
ADD TO BASKET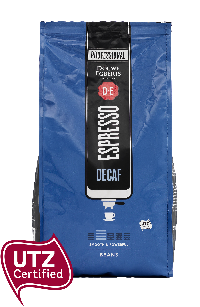 Our own blend of Coffee Beans roasted and ground exclusively for our customers.
LEARN MORE >
LEARN MORE >
An exquisite blend of the best Arabica beans gives Forza its strong character. With notes of chocolate, dark fudge and a hint of macadamia nuts it makes for an impressive taste experience.
Carefully roasted Arabica beans give Dolce a sweet and soft character. It has a balanced taste with subtle notes of dried apricots, fresh roasted shelled peanuts and a citrus acidity.
This dark roasted blend has an intense flavour characterised with hints of black pepper, nutmeg and cedar.
1 Case (6 x 1kg bags)
EAN code = 08711000319192
1 Case (6 x 1kg bags)
EAN code = 08711000243886
1 Case (6 x 1kg bags)
EAN code = 08711000243916
LEARN MORE >
Douwe Egberts Coffee Beans
Douwe Egberts
White Ox
Coffee Beans
Douwe Egberts
Italia (UTZ Certified)
Coffee Beans
Belair Coffee was appointed an exclusive Partner of Douwe Egberts in 2009. Our partnership with Douwe Egberts allows us to supply high volume coffee machines with exclusive Douwe Egberts coffee products, meaning our customers can maintain impressively high standards that please everybody's preference. Douwe Egberts' long and rich history started over 260 years ago in a small village in Friesland, The Netherlands. Today the famous DE logo is easily recognised across the world and guarantees supreme quality in the product you are consuming.
Coffee Beans
A great quality espresso is much more than just the beans; it's an experience that satisfies all senses, one that looks and feels as good as it tastes.
We have a variety of beans to suit all requirements, from our premium range of Piazza D'Oro through to our own brand Artisan range, we offer a taste variety for all to enjoy. We also have a selection of UTZ Certified coffees which have been grown and harvested in a responsible manner with care for people and the environment. All this, as well as the same good taste, quality and price consumers are used to. For more information visit www.utz.org
All of our beans are packed in foil lined bags and feature a one-way valve to guarantee optimum freshness and flavour.
Piazza D'Oro
Intenso
Coffee Beans
Piazza D'Oro Forza
Coffee Beans
Piazza D'Oro
Dolce
Coffee Beans
Piazza D'Oro Coffee Beans
Piazza D'Oro offers a selection of outspoken blends that excite, delight and inspire. A coffee made with passion, each espresso blend is carefully roasted to create unique taste profiles for you and your customers to enjoy. Utilising only carefully selected origins - each with its own unique set of flavours, aromas and characteristics - we create a truly outspoken taste experience. That's the difference you'll savour in each and every sip - the moment taste comes alive! We put great importance on the fact that our coffee is not only exceptional, but also sustainable. Piazza D'Oro Espresso coffee is proud to be UTZ Certified, to find out more about UTZ, visit our UTZ Certified Coffee page here