Location
Belair Coffee Systems Ltd.
Unit 94, Alston Drive
Bradwell Abbey
Milton Keynes
Buckinghamshire
MK13 9HF
Payment Methods
Secure checkout via PayPal:

Contact Us
0800 980 4770
Office Opening Hours
Monday - Friday
8:30 - 17:00
A machine for every sector
A coffee for every cup

DIMENSIONS
W: 269 mm
D: 505 mm
H: 434 mm


WEIGHT: 12.6 kg
FLAVIA Creation 500
Available from £33.00 per month (without maintenance)
Available from £49.50 per month (with 3 year maintenance)
"The perfect blend of stylish design and high quality performance"
The FLAVIA® Creation 500 blends stylish design with enhanced drinks and menu display options making it easier than ever to create and enjoy the perfect brew.
FEATURES
Designed especially with the needs of large offices and collaborative areas in mind
Enhanced LCD menu display for a more intuitive brewing experience
Choose from a delicious range of drinks, such as; Americano, Cappuccino, Espresso, Latte and Tea - each brewed in less than a minute and available in various cup sizes
Patented brewing process ensures no cross-over in flavour from one drink to the next
Portable and flexible for easy office placement - choose either; free standing with jug fill or plumbed directly to the water mains
Hassle-free reliability you can depend on
Fitted internal waste bin with a waste bin full indicator
90 cups per hour continuous
DRINKS MENU
FLAVIA machines freshly brew a full range of single-serve drinks, allowing you to enjoy your favourite cafe style drinks without leaving the office. Choose from an exceptional choice of over 25 drink options, such as:
Crafted Coffees and Specialities;
Americano, Black Coffee, Cappuccino, Espresso, Latte
Premium Chocolate Indulgences;
Chocolate Latte, Hot Chocolate, Mochaccino
Real-leaf and Herbal Teas

MACHINE BROCHURE
View a PDF copy of the machine brochure.
Introducing the FLAVIA Creation 500
The FLAVIA Creation 500: How to Brew
Work Café Merchandiser (see right)
This stylish, space-saving Merchandiser features an artistic design and allows you to store your Freshpacks, ancillary products and cups conveniently to create a coffee shop feel.
Dimensions:
W 457 / D 469 / H 427 mm
Small Merchandiser (see right)
Stylish, sturdy and spacing-saving, the Small Merchandiser holds 80 great-tasting drinks. The simple, one-piece design offers an efficient way to keep drinks areas organized and inviting.
Dimensions:
W 346 / D 331 / H 111 mm
Accessories and Optional Extras to enhance your FLAVIA Creation 500
Free FLAVIA Merchandiser with the purchase of a FLAVIA Creation 500 or FLAVIA Barista
Choose between the Work Café Merchandiser or the Small Merchandiser below:
Base Cabinet (see right)
A black / wooden Base Cabinet is available, featuring a built-in waste bin, storage drawer and lockable cupboard for storing your products.
Dimensions:
W 1475 / D 671 / H 906 mm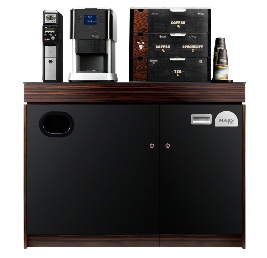 Coin Mechanism (see right)
A coin mechanism pod can be mounted to the side of the machine allowing you to charge for all drinks served via coins
Please note: this pod does not give change.
Delivery
Daily Deliveries To: Aylesbury, Banbury, Bedford, Berkhamstead, Bicester, Biggleswade, Brackley, Buckingham, Cambridge, Corby, Coventry, Daventry, Dunstable, Great Missenden, Hemel Hempstead, Hertford, Hitchin, Kenilworth, Kettering, Leighton Buzzard, Letchworth, Luton, Milton Keynes, Northampton, Olney, Royal Leamington Spa, Royston, Saffron Waldon, Southam, St Albans, St Neots, Southam, Stevenage, Wellingborough, Welwyn Garden City, Winslow. Next Working Day Delivery via DPD To: Berkshire, Cambridgeshire, Cheshire, Cornwall, Derbyshire, Devon, Dorset, Durham, Essex, Gloucestershire, Hampshire, Herefordshire, Huntingdon, Kent, Lancashire, Leicestershire, Lincolnshire, Middlesex, Norfolk, Nottinghamshire, Northumberland, Oxfordshire, Rutland, Shropshire, Somerset, Staffordshire, Suffolk, Surrey, Sussex, Warwickshire, Wiltshire, Worcestershire, Yorkshire.