Location
Belair Coffee Systems Ltd.
Unit 94, Alston Drive
Bradwell Abbey
Milton Keynes
Buckinghamshire
MK13 9HF
Payment Methods
Secure checkout via PayPal:

Contact Us
0800 980 4770
Office Opening Hours
Monday - Friday
8:30 - 17:00
A machine for every sector
A coffee for every cup

JURA Giga X8
Available from £155.10 per month (without maintenance)
Available from £194.70 per month (with 3 year maintenance)
It's all inside the new GIGA X8: the completely new inner workings of the GIGA X8 mean that is now more robust, efficient, intelligent and even easier to service. The dual spout is designed with the needs and requirements of professional users and allows you to create two coffee drinks at a time. The dishwasher proof drip tray and easy to navigate touch screen display make the machine simple to operate whilst enabling maximum flexibility.
The GIGA X8 features a sophisticated height-adjustable dual spout, which finishes off trend specialities with milk and milk foam to perfection thanks to fine foam technology. The speed function ensures speciality coffees in record time.
FEATURES
2 x 650g bean hoppers with aroma preservation covers and 1 x ground decaf chute (for making decaf drinks using ground coffee)
Water tank capacity: 5L
TFT touchscreen colour display
Sealed bean hopper to retain freshness
Make 2 milk or 2 black coffee drinks at a time
2 x electrically adjustable ceramic disc grinders
Height adjustable coffee and water spouts
Cup illumination
Programmable switch on/off time
Drinks at the touch of a button
Automatic milk rinse
Water filter display with notification when filter change is due
Optional plumbing directly to the water mains for £250
Hot water flow function
Variable cup sizes
Waste container full sensor
Water tank empty sensor
Drip tray full sensor
Hopper empty sensor
Energy saving mode
End of day clean in less than 5 minutes
Integrated rinsing, cleaning and descaling programme
DRINKS MENU
32 programmed drinks, including:
Americano (2 x in 58 secs)
Caffe latte (2 x in 1 min 7 secs)
Cappuccino (2 x in 15 min)
Espresso (2 x in 53 secs)
Flat White (2 x in 1 min 26 secs)
Hot water flow
Latte macchiato (2 x in 1 min 26 secs)
Milk, milk foam
Pot of coffee (360ml pot in 1 min 54 secs)
Ristretto (2 x in 35 secs)
Decaffeinated versions of the above drinks can be created by using the ground decaf chute.
WARRANTY
Warranty covers up to 200 cups per day
2 years parts and labour warranty (with option to add water filtration)
DIMENSIONS
W: 370 mm
D: 497 mm
H: 565 mm


WEIGHT: 19 kg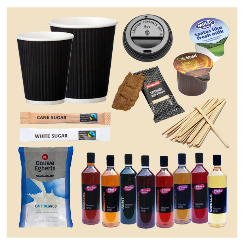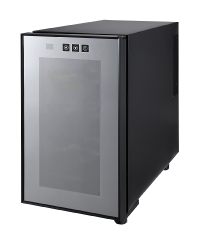 JURA CUP WARMER
(see right)
Coffee tastes its best when
served hot - that's why all
professionals work with correctly
pre-warmed cups as a matter of
principle. Using pre-warmed
cups allows the mouthwatering
aroma of your coffee to be
released in its entirety, ensuring
the taste is at its best. Holds 60
coffee cups (diam. 80 mm) or 100 espresso cups (diam. 60 mm).
Dimensions:
W 122 mm / D 349 mm / H 306 mm
JURA 1L COOL CONTROL FRIDGE
(see below)
Silky, airy milk foam for speciality coffees come out perfectly when the milk is kept fresh at 4°C prior to heating and frothing. The Cool Control cools up to 1 litre of milk until it reaches 4°C and then maintains the temperature constantly within the optimum range.
This black drinks cooler from Russell Hobbs is as eye catching as it's practical with a temperature range from 8 to 18 degrees. A hole is drilled into the side of the machine with a tube connecting the milk directly to the machine, allowing you to maintain a constant cool temperature of your milk.
Dimensions:
W 252 mm / D 515 mm / H 456 mm
ACCESSORIES AND OPTIONAL EXTRAS
To enhance your GIGA X8
RUSSELL HOBBS COOLER FRIDGE
(see right)
Delivery
Daily Deliveries To: Aylesbury, Banbury, Bedford, Berkhamstead, Bicester, Biggleswade, Brackley, Buckingham, Cambridge, Corby, Coventry, Daventry, Dunstable, Great Missenden, Hemel Hempstead, Hertford, Hitchin, Kenilworth, Kettering, Leighton Buzzard, Letchworth, Luton, Milton Keynes, Northampton, Olney, Royal Leamington Spa, Royston, Saffron Waldon, Southam, St Albans, St Neots, Southam, Stevenage, Wellingborough, Welwyn Garden City, Winslow. Next Working Day Delivery via DPD To: Berkshire, Cambridgeshire, Cheshire, Cornwall, Derbyshire, Devon, Dorset, Durham, Essex, Gloucestershire, Hampshire, Herefordshire, Huntingdon, Kent, Lancashire, Leicestershire, Lincolnshire, Middlesex, Norfolk, Nottinghamshire, Northumberland, Oxfordshire, Rutland, Shropshire, Somerset, Staffordshire, Suffolk, Surrey, Sussex, Warwickshire, Wiltshire, Worcestershire, Yorkshire.